White pumpkin accents for Thanksgiving centerpieces and fall decor keep things clean, chic and simple for the holiday. Modern without being too minimal, contemporary without lacking cohesion and eye-catching without being ostentatious. Use these white pumpkin autumn accents for a present day spin on traditional fall design.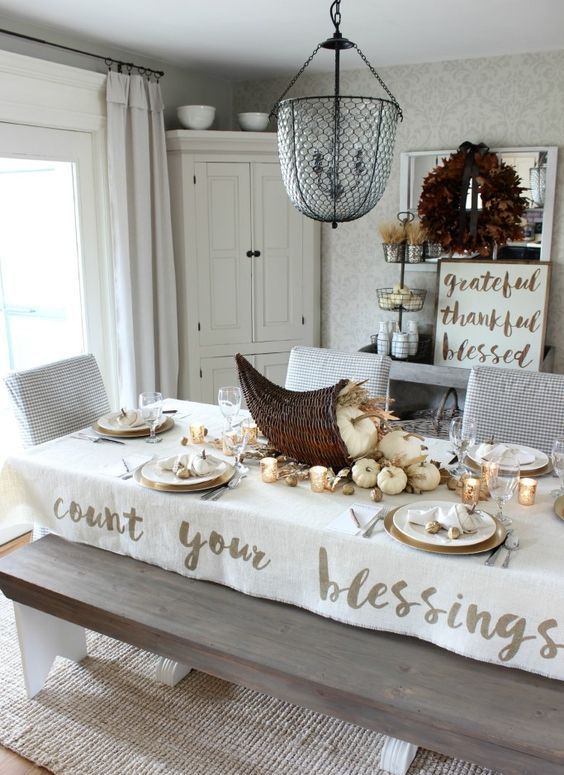 Pop a few different sized white pumpkins combined with golden wheat in a brown wicker cornucopia.
Arrange the same sized white pumpkins in a straight line along a wooden board. You can keep as is for a minimalist approach to this Thanksgiving centerpiece design or you can embellish your pumpkins with cranberries, foliage or one other colorful natural accent.
Arrange various sizes of white pumpkins with cream hyacinth, white tealights in transparent glass candle holders and ash gray antlers. This autumn centerpiece has elements of rustic contemporary, shabby chic, southwestern, farmhouse country and minimalism style all rolled into one display.
For this autumn centerpiece, the white pumpkins along with an eye-catching shimmering metallic pumpking are placed on silver plated pedestals. They are surrounded by taupe tali balls and shredded white confetti. This white pumpkin centerpiece display would shine in hollywood regency, shabby chic, rustic contemporary and farmhouse country homes.
In this centerpiece design, the white pumpkins are placed (in no particular organized arrangement) in a wooden elongated box with dark metallic handles. The box is painted a neutral gray color accentuating the white of the pumpkins by creating a sharp contrast. A few tealights in glass candleholders are placed directly outside of the box to brighten up the space. This would make a beautiful Thanksgiving accent for a shabby chic, rustic contemporary or farmhouse country home.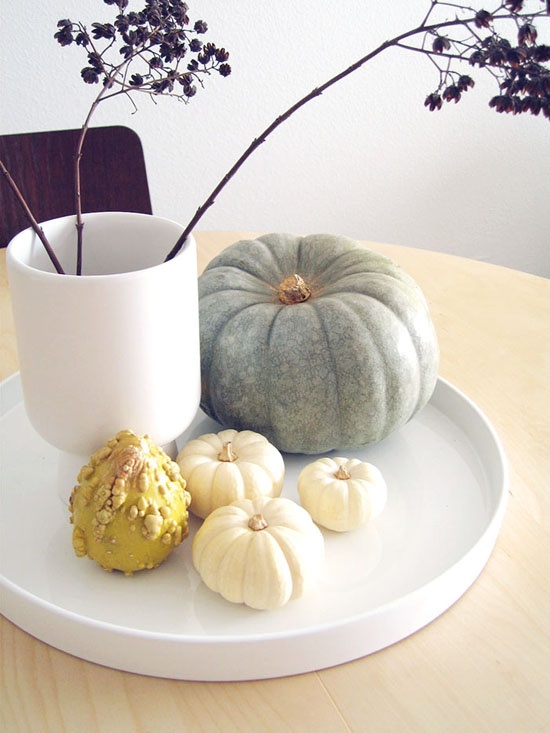 Minimal and modern. This centerpiece uses the sharp contrast of shape and color to accentuate each accent. 3 small white pumpkins, a textured pale yellow gourd, a large gray pumpkin and 3 dried branches in a round white vase, each natural element stands alone without disrupting the cohesion of the design. They are arranged simply atop a white round plate.
Using fall home decor white pumpkins in your Thanksgiving centerpiece design will give you plenty of room to play with different combinations and variations. Neutral color palettes provide a simple starting point for versatility and creativity when creating a brand new modern fall accent for your living space.